A Guide to Women's Swimwear
Feel supported, comfortable and confident every time you swim with the right swimwear for your body shape. Find the perfect swimwear below with our expert guide on back design, fabric and body type.
Tagged under
fit guide
womens swimwear
Select the right leg height
Speedo Female designs offer a variety of leg heights to suit your preferred fit and for every activity.
The guide below gives you an indication for the garment fit so you can find the right level of coverage… or cheekiness.
Select the right back: for style or performance
With so many swimsuit back design options it can be confusing to figure out which is right for you. Here's a simple guide to each design.
Medalist
Aids shoulder movement for freedom in swimming
Perfect for longer training sessions
Durable straps so your suit will last longer
Top-selling: Try the Endurance+ Medalist One Piece
Muscleback or Image Uplift
Greater back coverage
Extra bust support
Can reduce drag to help you swim a little faster
Most-popular: Try the Splice One Piece or Image Uplift
Leaderback or Sierra
Freedom of movement so you can swim all four strokes in easily
Comfortable
Slightly less coverage
Best-seller: Try the Limitless Leaderback One Piece or Sierra One Piece
Thinstrap
Avoid tan lines if you swim outdoors
Easy shoulder movement
Turboback
Maximum coverage
Zip for ease of putting on/taking off
High Neck design
Most popular: Spirit Turbo Suit One Piece
Scoop-Back
Unrestricted movement
Comfortable
Thick, adjustable straps for support
Sleek, stylish look with less back coverage
Try the Oasis One Piece or Concealed D/DD Cup Tank One Piece for additional support
Clipback
All the benefits of a Muscleback or Image uplift, with the added benefit of a clip for ease of putting on/taking off
See the Countour Clipback One Piece
The Power Back
Our newest addition to the Speedo womens range
Moderate straps that cross at the back for maximum support and minimum coverage
Joined by mesh panelling at the waist for a sleek open back look
Body positioning and shaping
A best-seller: The Power One Piece

Know your fabrics:
Endurance+ is Speedo's most durable fabric, with shape retention and 100% chlorine resistance. Comfortable, quick drying and exclusive to Speedo, it is the premium choice for your swimwear for a soft a stretchy fabric, that will continue to fit like new for longer.
Speedo Eco Fabric comes with the added benefit of circular production. Did you know that we source recycled and reclaimed plastic water bottles, break them down and weave them into our Eco Fabric? The result is chlorine resistant, feel good swimwear with a softer hand feel.
Body Types: Finding The Perfect Swimsuit
Here's our top tips for feeling confident no matter what your body type.
If you're looking for bust support
Choose a style with adjustable straps for a better fit and added comfort
Thicker straps offer better support for a more comfortable swim
Avoid V Necklines which may be unsupportive when swimming
Accentuate your waist with a swimsuit that features a waistband design
Don't be afraid of bold colours!
If you are a different size on bottom half
Choose a different sized bottom and top from our mix and match range so you can get the right fit for you
Choose a swimsuit with a darker bottom half and a patterned top half
If you have the same measurements for your bust, waist and hips
High cut styles suit this body type
Sporty two pieces will look great on you
Don't be afraid to rock a bold pattern!
Finding your size
Unlike clothing, swimwear needs to sit slimly to avoid drag and gaping when in the water. Whilst our sizing runs true to size according to this slim-fit, you can also use our size charts to find the best fit for you.

WOMENS SWIMSUIT SIZES
SIZE
6
8
10
12
14
16
18
20
22
24
28
ALPHA SIZE
XXS
XS
S
M
L
XL
GB
32
34
36
38
40
42
BUST (INCHES)
30"
32"
34"
36"
38"
40"
42"
44"
46"
48"
50"
WAIST (INCHES)
22"
24"
26"
28"
30"
32"
34"
36"
38"
40"
42"
HIP (INCHES)
32"
34"
36"
38"
40"
42"
44"
46"
48"
50"
52"
How to Measure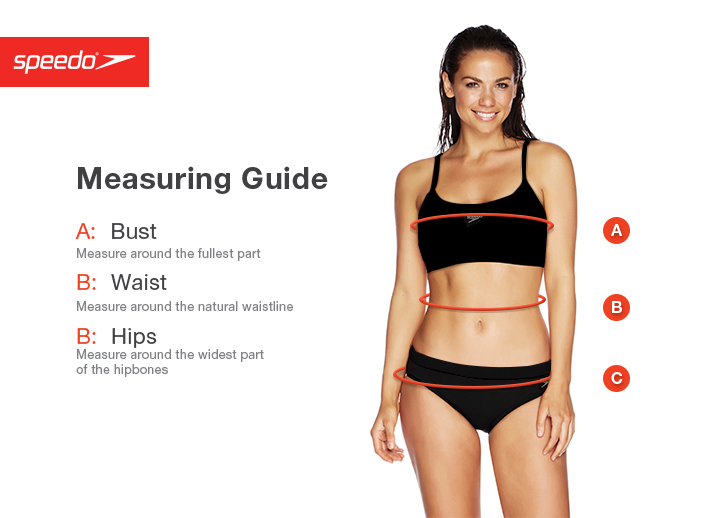 Read Next
Men's Guide to Swimwear
Men's Guide to Swimwear
There are few names as well known in the Swimwear world as Speedo. Since Alexander MacRae started the company in 1914, coined as Speedo by 1928, the brand has become synonymous with style, performance and quality.